We carry out all stamping operations using cutting and forming tools. We process steel, metallized steel, stainless steel, copper and its alloys. According to the customer's wish we ensure even surface treatment of the pressed parts, e.g. zinc coating with chromate treatment included, nickel coating, tinning and surface polishing.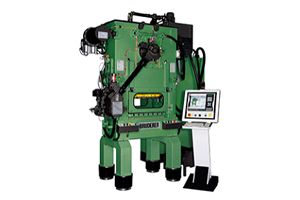 For the metal press shop, Bruderer BSTA 250, a high-performance stamping press characteristic with its unique technical arrangement, high accuracy ram-guide and reproducible exact position in the bottom dead centre has been acquired, which guarantees exact reproducibility of produced parts and significantly extends the intervals between tool grinding. The press force is 250 kN and its speed ranges from 100 to 1,500 SPM. The stroke is adjustable from 13 to 38 mm with the possibility to select even 47 mm.
Some of our customers being able to give references of our products: ASCO, Stabila, Fronius, HTP, Hella Autotechnic, Injecto Mold Inc., Brisk, Visteon (Autopal) and others.
We are looking forward to your visit and your inquiries.