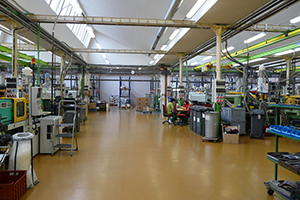 The plastic injection moulding shop is specialized in production of thermoplastic parts for electrotechnical and consumer and automotive industry.
The mouldings are produced on injection moulding machines Arburg, Engel, Selex and Ponar in the parts weight range from 0.1 to 600 gms (PS). We operate the Selex injection moulding machines with the discriminator (evaluating device) monitoring the actual values of the injection moulding process and stopping the injection moulding machine if these actual values of parameters with respect to the moulding quality become unacceptable (QS).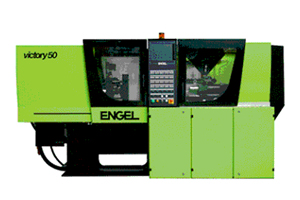 The injection-moulding shop equipment has been extended with ENGEL Victory 50, an injection-moulding machine with the clamping force ranging from 280 to 6,000 kN; this enables highly efficient production operations due to ergonomic benefits of the tie-bar-less technology used in the clamping unit, such as minimum times for setting and exchanging of bulky moulds, possibility of utilisation of the whole surface of the clamping plate and easy access to the automatic unit. The high-accuracy injection process is achieved by the electric injection unit and due to absolute parallelism of the plates the process meets the strictest requirements for its accuracy.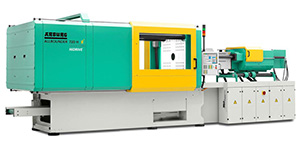 ARBURG 720 S 3000-1300
Technical details
Screw size 60 mm
Injection shot weight in Polysterol 607 g/PS
Core drawing 2-fach
Control Selogica
Daylight 720 x 720 mm
Opening stroke 850 mm
Mould height – Max./min. 400 mm
Daylight between platens – max. 1250 mm
Total power requirement 70,5 kW
Weight of the machine ca. 17 t
Additional information
Technology stage 2 – servo-regulated hydraulic plant with 2 regulating pumps
With highly wear resistant plastification unit
Injection regulation through servoreguatling valve
Mould monitoring through ejector plate safety
Core pull 2 times
Mould blow unit 1 with pressure reducer
Machine is equipped with MULTILIFT SELECT – lateral construction (vertical taking out of parts, side arm version, max. handling weight 15 kg, 3 CNC-axis simultaneous movements)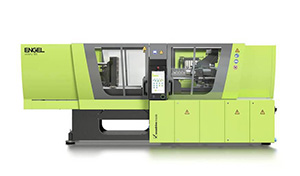 ENGEL 1050/180
Flexible, energy-efficient and reliable: The universal ENGEL victory is your perfect modular system for manufacturing a wide range of technical mouldings. With its proven tie-bar-less technology, you can use this relatively small injection moulding machine even for large moulds.
Universal all-rounder - the optimal basic machine for all-round applications and a variety of technologies.
Low energy consumption - low friction, clamping pressure lock-in & electro-hydraulic control pump.
Optimal mould protection - patented ENGEL force divider for outstanding platen parallelism and uniform clamping force distribution.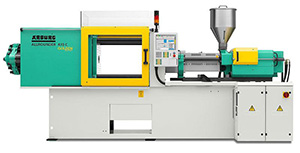 ARBURG 470 C 1500-400
Hydraulic ARBURG ALLROUNDER injection moulding machines can be used for a wide variety of applications and can be individually adapted for operation in conjunction with all familiar injection moulding techniques.
Highlights
Adaptable to all injection moulding processes in a clamping force range.
Repeat accuracy comparable to that of electric machines during injection with the position-regulated screw developed by ARBURG.
Up to 30% lower energy consumption thanks to the ARBURG energy saving system (AES).
ARBURG 420 C 1000-290
Technical details
screw size 40 mm
closing pressure 1000 kN
daylight 420 x 420 mm
opening stroke 500 mm
mould height – Max./min. 250 mm
daylight between platens – max. 750 mm
total power requirement 23,9 kW
weight of the machine ca. 3,7 t
Additional information
highly wear resistant plastification unit
hydraulic plant with 2 with servo-regulating pumps
6 electrical mould heating circuits
interface for compact flash
interface for printer
interface for robotsystem according to EUROMAP 67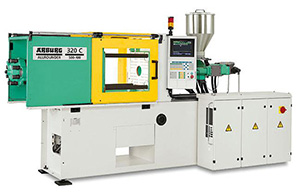 ARBURG 320 C 1000-290
Information
Clamping force 50 tons
Distance between tie bars 320 x 320 mm
Injection Capacity 50 cm3
We process a broad range of thermoplastic materials reaching from basic materials like PE and PP and PS over technical ones like PA, ABS, PC, POM, PBT to special ones like PPS and elastomers. All materials are processed both unfilled and filled, both in basic form and with additives (with a view to UV radiation, nonflammability, …). We carry out the dyeing procedure ourselves on the injection moulding machines according to the customers´ requirements.
Production of new moulds and maintenance of existing ones is ensured in the in-house tool shop under one roof.
You can get references from our customers ASCO, AEG Comp., Stabila, Brink, Ruoss, Fronius, Injecto Mold, Visteon, Dura, Batz and others.
We are looking forward to hearing from you both paying a visit to us and contacting us in relation to new projects as well as in the course of projects realization.
ISO 9001:2001
ALEMA Lanškroun Ltd. disposes of the introduced certified Quality Management System according to the norm CSN EN ISO 9001:2001 already used since the year 2000 with all its activities.